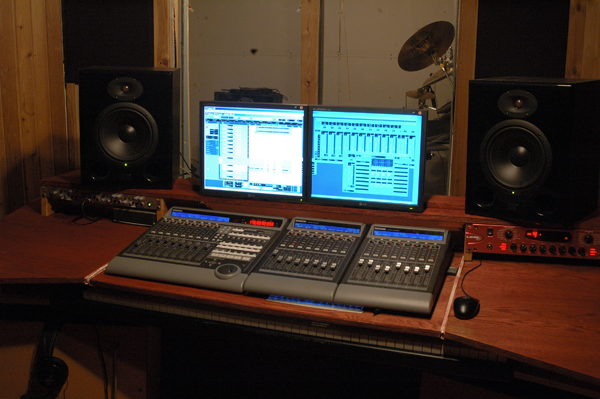 This is a shot of the new control room we are building. Directly through the windows is the drum room and beyond that another iso booth for amps. The vocal booth is to the right of the engineer position.
The hallways between the booths are also wired for isolation.

The heart of the studio is Cubase SX and Nuendo but we are also ProTools Equipped. We use a Mackie control and extenders, and have 24 focusright digital mic pres.

The studio has Cerwin-Vega Mains, Genelec nearfields, Sony subs, with Crest power.

As well we have a set of Auratonesand PS6s kicking about.
Under the mix position is a loaded K-2500- the mixer slides up and out of the way so editing/sequencing can be done SIP. To the right of the mix position is a Korg Triton whose sounds are selected right from the SX interface.

We have a POD Pro (controlled from SX), with the pro pedal board. A Zinky amp, tonnes of guitars and outboard gear, and a Yamaha Recording Custom Kit with lots of Brass and few snares as well as a full set of Yamaha, and roland pads and triggers.

Our DAW is a custom box (3.4) with a RAID controller getting us 400 MPS and over a terabyte of HD space. Soundcard is two Mark of the Unicorn 2408s with 24 I/Os each.

Mics are Rhode NTK and NT2, CADs, c1000, Aphex, Shures, Sennheiser etc.

Each tracking room has a flat screen and keyboard and mouse for viewing/editing SX as you are tracking.

The studio is 5.1 compliant and more if needed.

This is the unfinished drum room (just needs some paint). We have a Yamaha recording custom kit and Yamaha brain with Roland pads mixed with Yamaha pads.

We use triggered BFD sounds which include some of the greatest kits ever recorded.